LET'S BRING YOUR PROJECT TO LIFE
Our centralized, in-house printing, mailing and finishing services offer you a wide spectrum of possibilities at a competitive price. Our team provides professional services and guidance through each step of the way during the process of producing your project. We specialize in printed products such as: catalogs, brochures, postcards, flyers, direct mailers, signs, banners, window graphics, floor and wall graphics, vehicle wraps, posters, packaging, and much, much more.
Our advantage over the competition is our ability to keep every piece of your project in-house, as our services cover the spectrum of our industry: Printing, Signage, Mailing, Fulfillment, Graphic Design.
OFFSET PRINTING
With our 6-Color 40" Heidelberg and 2-Color Heidelberg Speedmaster printing presses, we have the capabilities to: tackle your high-volume print runs, print with your brand's Pantone colors, add high-end varnishes like spot gloss and soft-touch aqueous to your project, and print on sheets up to 40" x 28" and 24pt thick.
WHY OFFSET? Well, for starters if your project calls for a high-volume print run, offset is your best choice to save on setup costs. Offset quality is often superior to that of digital, as there is more control over color corrections and the ability to add in-line coatings to enhance your project. Watch your cost-savings grow as you increase the number of printed pieces you order!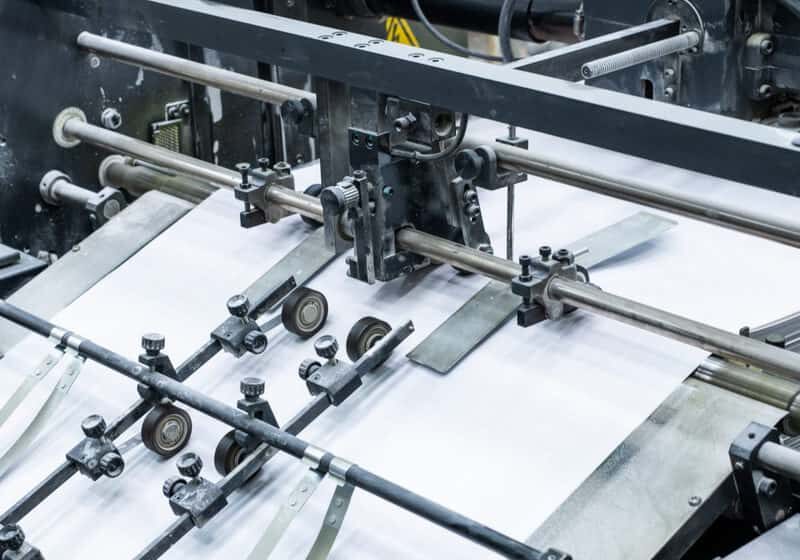 DIGITAL PRINTING
Our small army of Digital Printing presses are always ready to serve your printing needs. We have multiple color and black & white presses so that we can be competitive on your projects. Our color presses are capable of printing full-color envelopes, long sheets up to 40" x 13", and can even feed 16pt cardstock.
THE DIGITAL PRINTING ADVANTAGE: The digital printing process requires low setup costs, fast printing speeds, variable data printing, and toner-based inks that cure on contact with your choice of paper or media. Digital printing is often used for the quick turnaround, along with the advantage of being a low-cost solution for low-volume printing projects. Common max sheet size is 13" x 19", however with our long-sheet delivery, we can provide digital printing on sheets up to 13" x 40".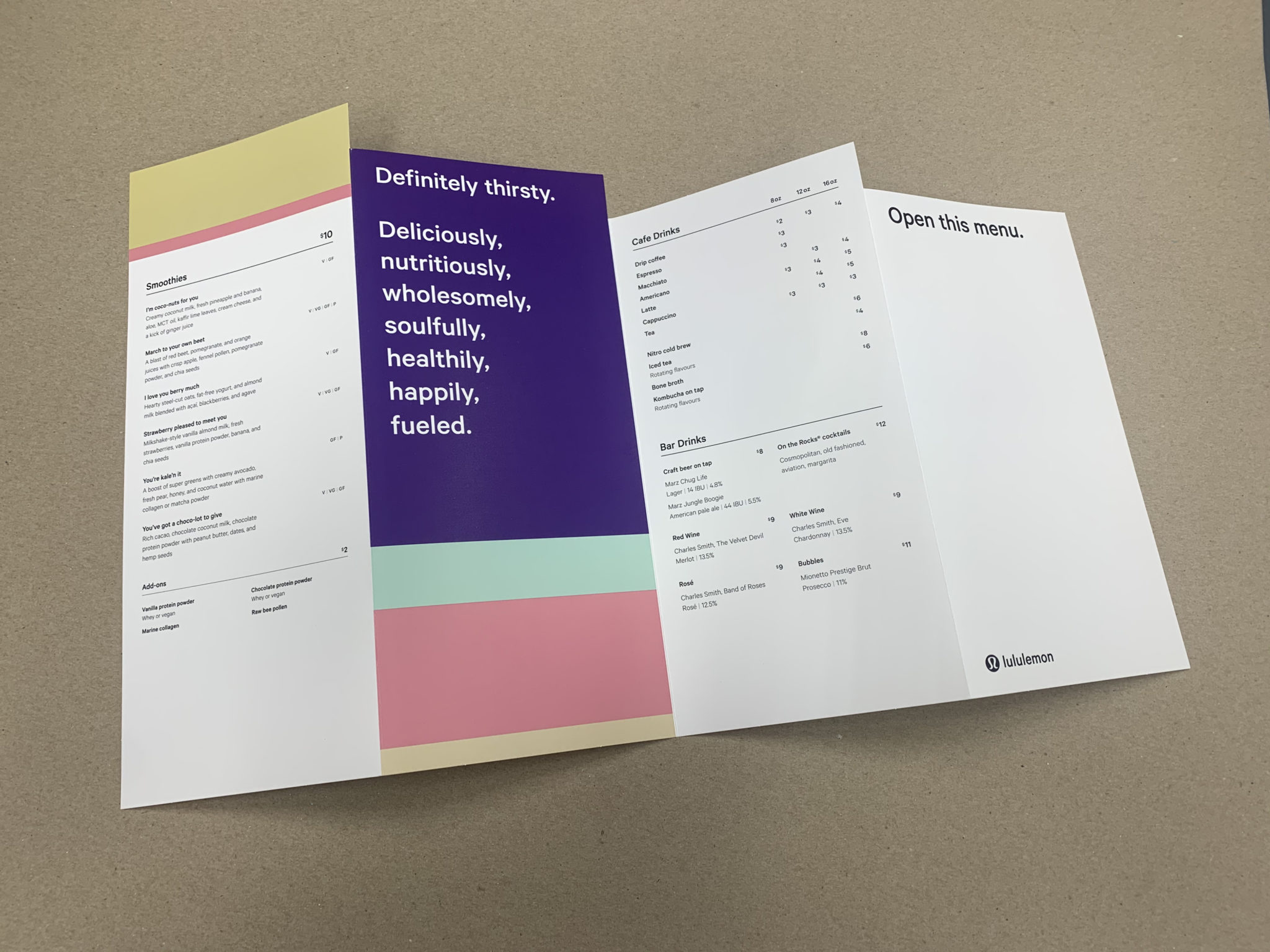 FULL-SERVICE BINDERY & FINISHING
Our Bindery Team has the experience and finishing equipment to handle all of your printing needs. We have invested heavily in the equipment necessary to keep every bit of your project under our roof for competitive pricing and faster turnarounds.
We offer services such as: saddle-stitching (booklet staples), perfect-binding (magazine-style spine), spiral-binding, die-cutting, foil-stamping, laminating, hole-drilling, folding, and padding.
CUSTOM: We offer custom spiral-binding for your menus and book work. We have coil extruders and formers, which allow us to buy spools of different coil colors and form them to match the thickness of your menu or book. With a wide variety of colors and coil gauges, we can really separate your print from the rest. Ask us today for a coil color library and a quote!
SIGNAGE & GRAPHICS
Our Wide Format Department has been growing rapidly and adding to our capabilities over the last decade. We offer vast signage and graphics solutions which cover, but are not limited to: Vehicle Wraps and Graphics, Wall Murals and Graphics, Window Graphics, Floor Decals, Banners, Yard Signs, Indoor Signage, Wayfinding Signs, 3D Signage, Pop-Up Banner Stands, Fabric Displays, POP Displays, Short-run Packaging, Magnet Printing, Decals, Real Estate Signs, and much more.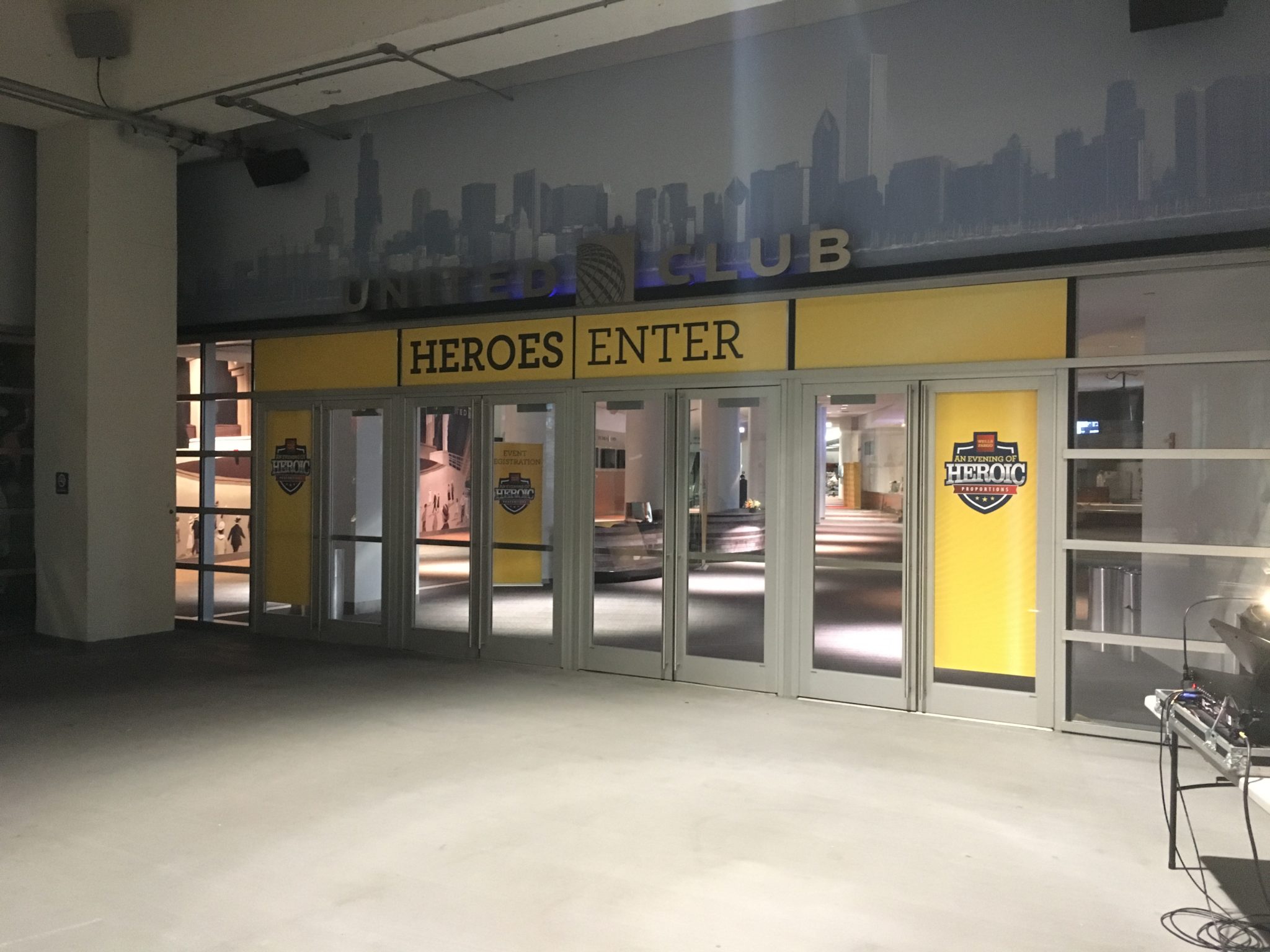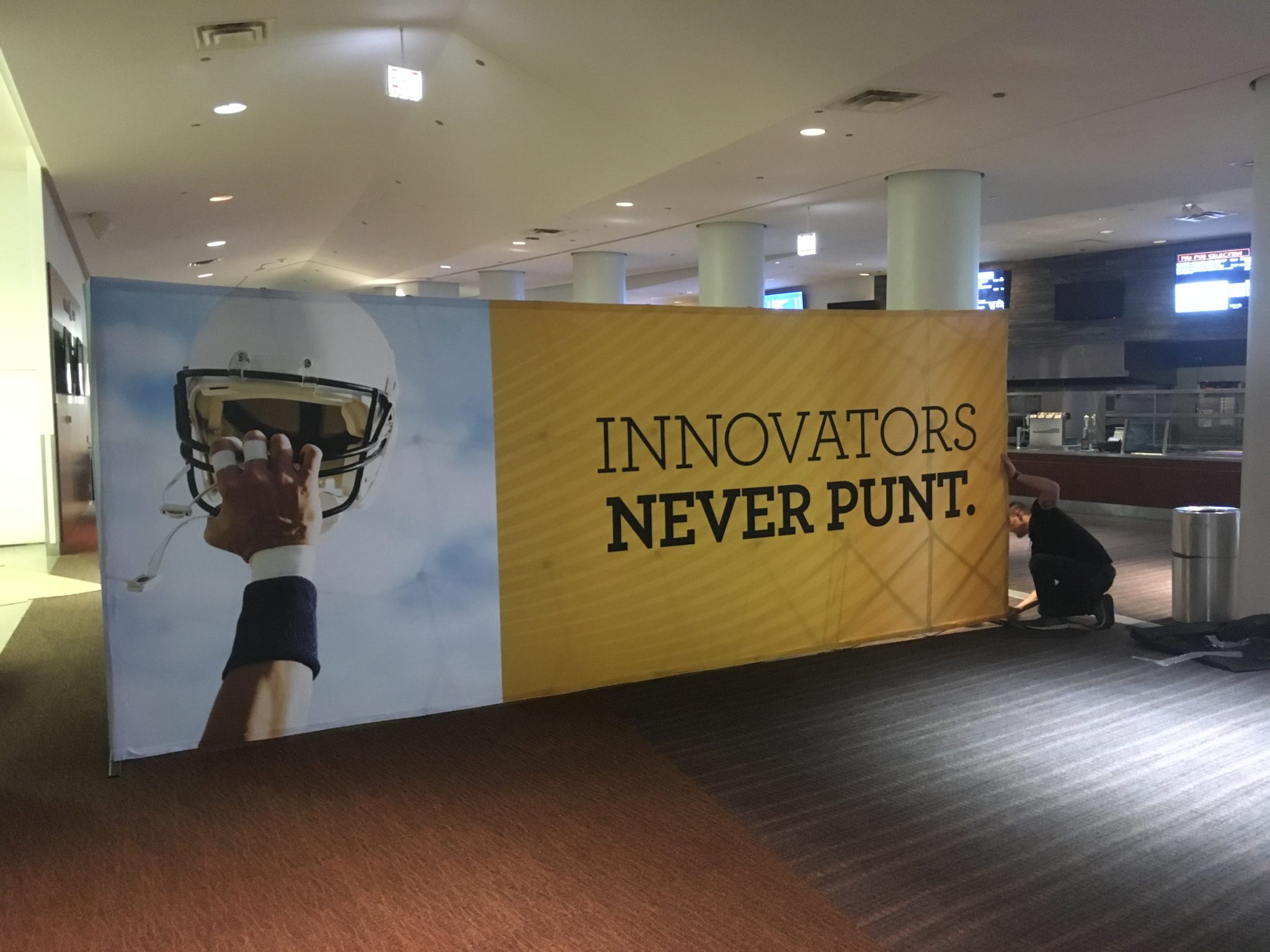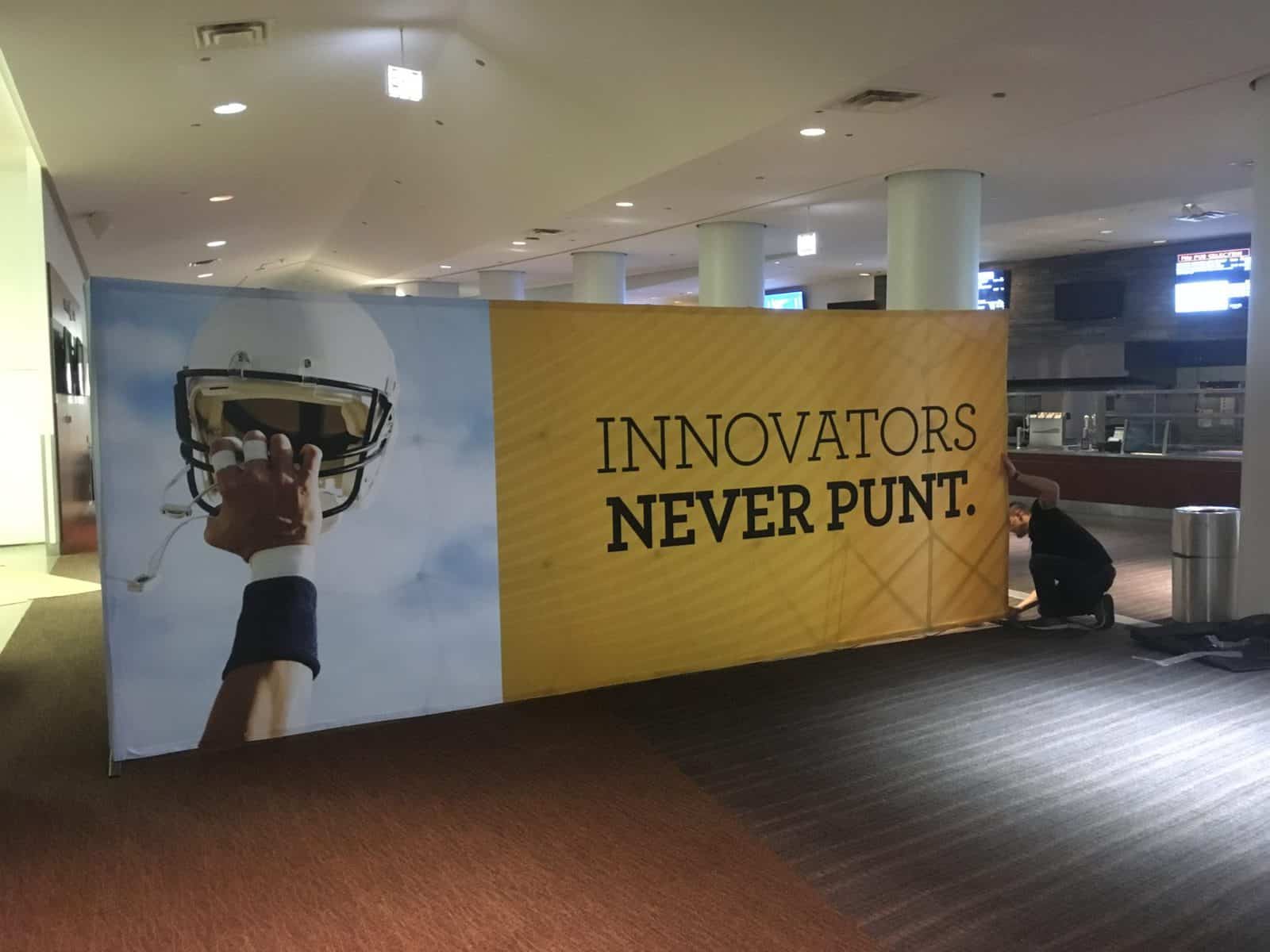 PRINTING: We can print ANY SIZE you need. Too big? No such thing! Our sign printers and finishing equipment can get almost any job done. We use both Latex and UV printing technology to achieve the quality, ink longevity and resolution your signage deserves.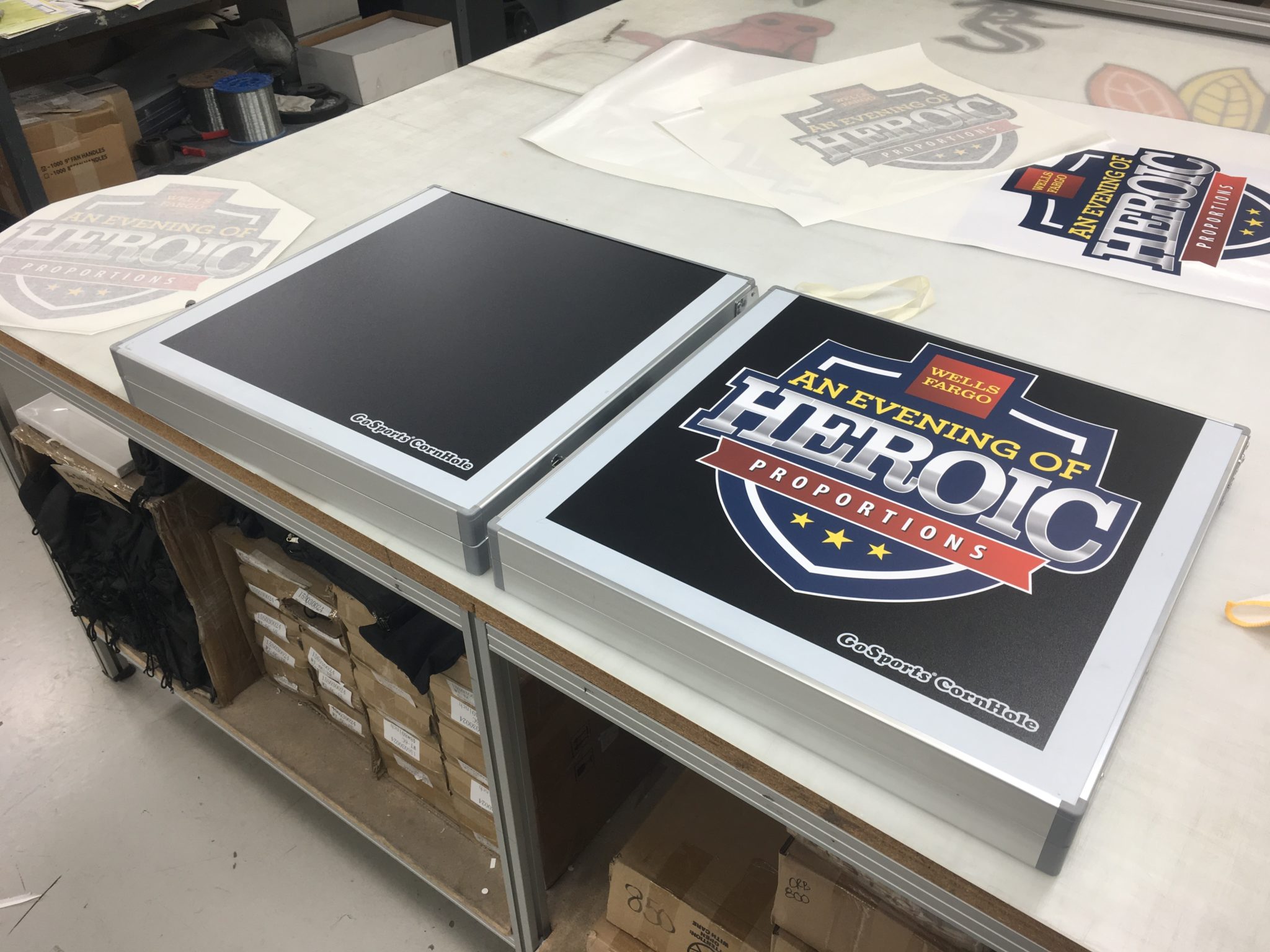 FINISHING: Our CNC Router and vinyl cutters offer precise die-cutting to bring your graphics to life. Our laminators are eager to protect your graphics for years on end. We offer added finishing services like grommets, pole pockets and hemming for banners, adding Velcro or two-sided tape where needed, mounting services, and endless custom solutions.
INSTALLATION: Our Wide Format Department is full-service. When your graphics are produced and ready to rock n' roll, we will install your project for you. Whether we are installing decals on the ground, or 100ft in the air, we got you covered. Whether your install is in the state of Illinois or across the country, we will be there. We warranty our installs and also offer graphics removal services, too. Trust us, you don't want the blisters…
PACKAGING: Though we do not yet have a full-fledged packaging department (not yet, anyway), we do offer short-run packaging solutions. With capabilities to print offset or wide format, we can cover the spectrum of printing on cardstock and all the way up to corrugated. Please ask us about your packaging projects! If it does not fit us, we will gladly let you know and point you in another direction.
DIRECT MAIL
Our Mail Division has over 80+ years of mailing experience. Now that is a lot of time to spend with the United States Post Office (USPS). From small, personalized mailings to hundreds of thousands of mailers, our team is standing by to get your message out in the mail. Whether you have a custom mailing list from your CRM database or you want to blanket specific mailing routes within a certain zip code, we will make sure you hit your target audience.
WHY CHOSE A MAIL HOUSE LIKE GIC? Because we know ALL the ins and outs of the USPS mailing process. The USPS has strict rules and regulations which can be limiting if you do not have the resources and mail knowledge that we have and utilize. We also have access to competitive postage rates and programs like Enhanced Carrier Route mailings (ECR), which are less limiting and less expensive than consumer-based programs like the common Every Door Direct Mail (EDDM). Reach out to learn more!
CAPABILITIES: We have amassed an arsenal of mailing equipment that allows us to automate your project for quick mailings and efficient workflow. We have inserters, tabbers, inkjets, postage counters, you name it. We also have daily USPS drops scheduled so your mailings will not miss a beat.
HISTORY: We grew our mail services by acquiring Caldwell Letter Service (CLS) in January of 2019. CLS was headed by Patty Perry and husband Will Perry. GIC has worked with CLS for generations – Louise Wood-Markasovic (2nd Generation) used to work with Patty Perry's parents, who were first generation owners of Caldwell. After working off of each other's strengths, which consisted of GIC sending mail projects to CLS and CLS sending print work to GIC, we decided to merge the two companies and become one big family. This turned out to be a great match, as we can both offer more competitive services to each other's client base and make a seamless transition into one company. CLS acts as Graphic Image Corp.'s in-house Mail Division, which still uses the name Caldwell Letter for brand recognition. When you do work with us, you get decades worth of printing and mail service experience.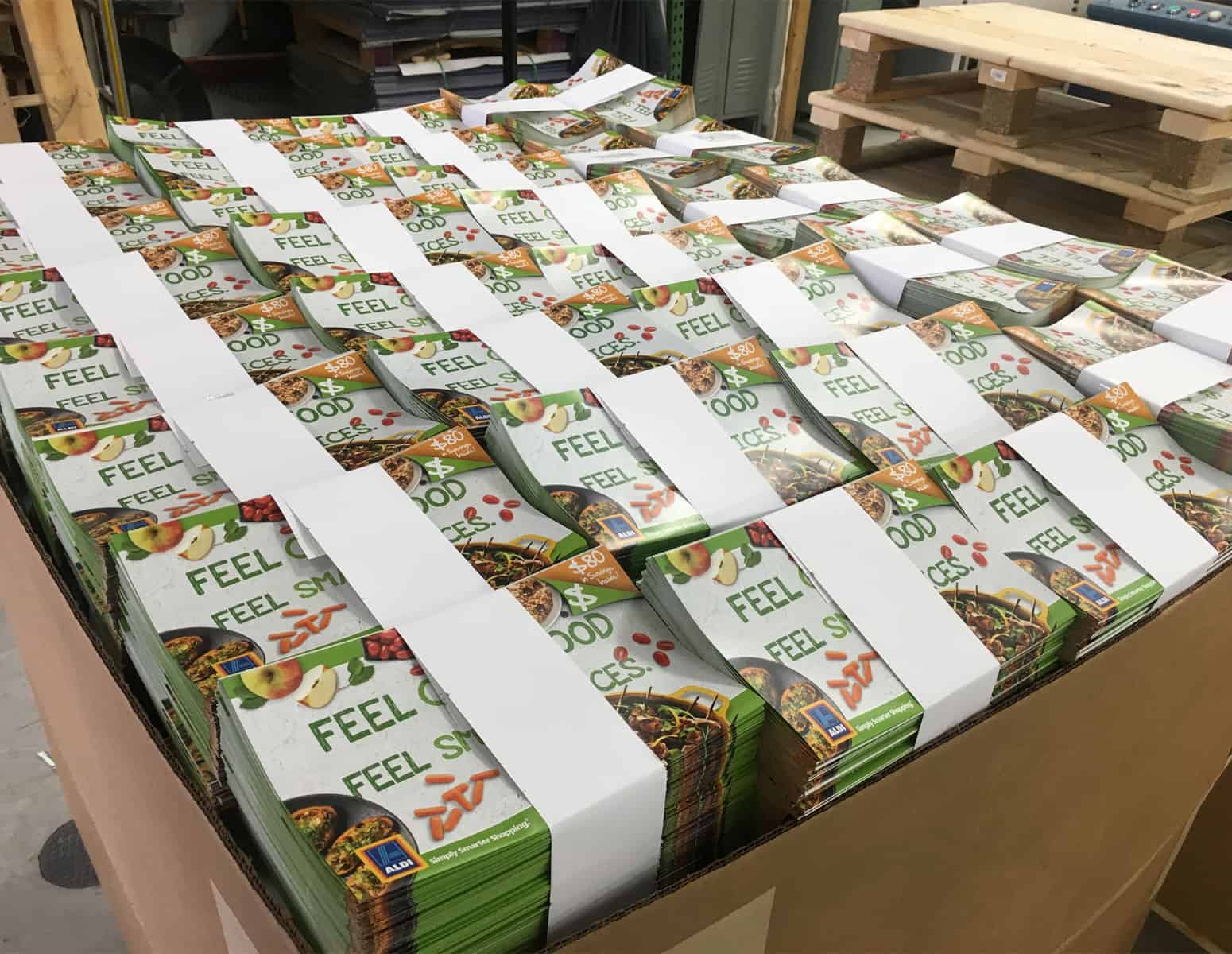 FULFILLMENT
GIC offers fulfillment and inventory management services. Take advantage of our printing services by printing high-volumes of your collateral and storing the extras on our shelves in our warehouse. We offer pick & pack services, kitting, shipping on demand.
With over 42,000sqft of space at our disposal, 4 drive-in truck bays, and plenty of shelving, we have the systems in place to be your fulfillment provider.
DESIGN
Our Prepress Department is the heart and soul of our operation. With over 100 years of prepress experience and knowledge at our fingertips, we pride ourselves on the ability to work with your files, diagnose issues, and troubleshoot with you to ensure your artwork is produced the way it was designed. We have the capabilities to setup files for conventional printing, sign printing & cutting, packaging, and web purposes.
WE OFFER IN-HOUSE GRAPHIC DESIGN SERVICES to cover you when you are in a pinch or do not have a graphic designer at your disposal. We can be your creative solution for any project! We design from scratch and are capable of driving your message home with impactful graphics and selective content.
WE BRING THE FUN IN FUNCTIONAL TO OUR ARTWORK. GIC has the people in place to deliver a creative design with the functionality to boot. We create our design with the intent of production so that nothing is lost from screen to print.
POLITICAL PRINTING 
CHICAGOLAND'S TRUSTED POLITICAL PRINTER & MAILHOUSE
Political printing has been the backbone of our operation for 20+ years. We are a UNION PRINTER and we know the last minute, crazy quick turnarounds associated with political campaign needs. We have been there and we have done that! GIC looks forward to busting our hump every "political season," making sure we deliver quality products on time and as needed. Whether you need a few flyers for a local event, tons of yard signs, or a few hundred thousand mailers to go out "like yesterday", GIC will be ready and waiting to produce your campaign needs.